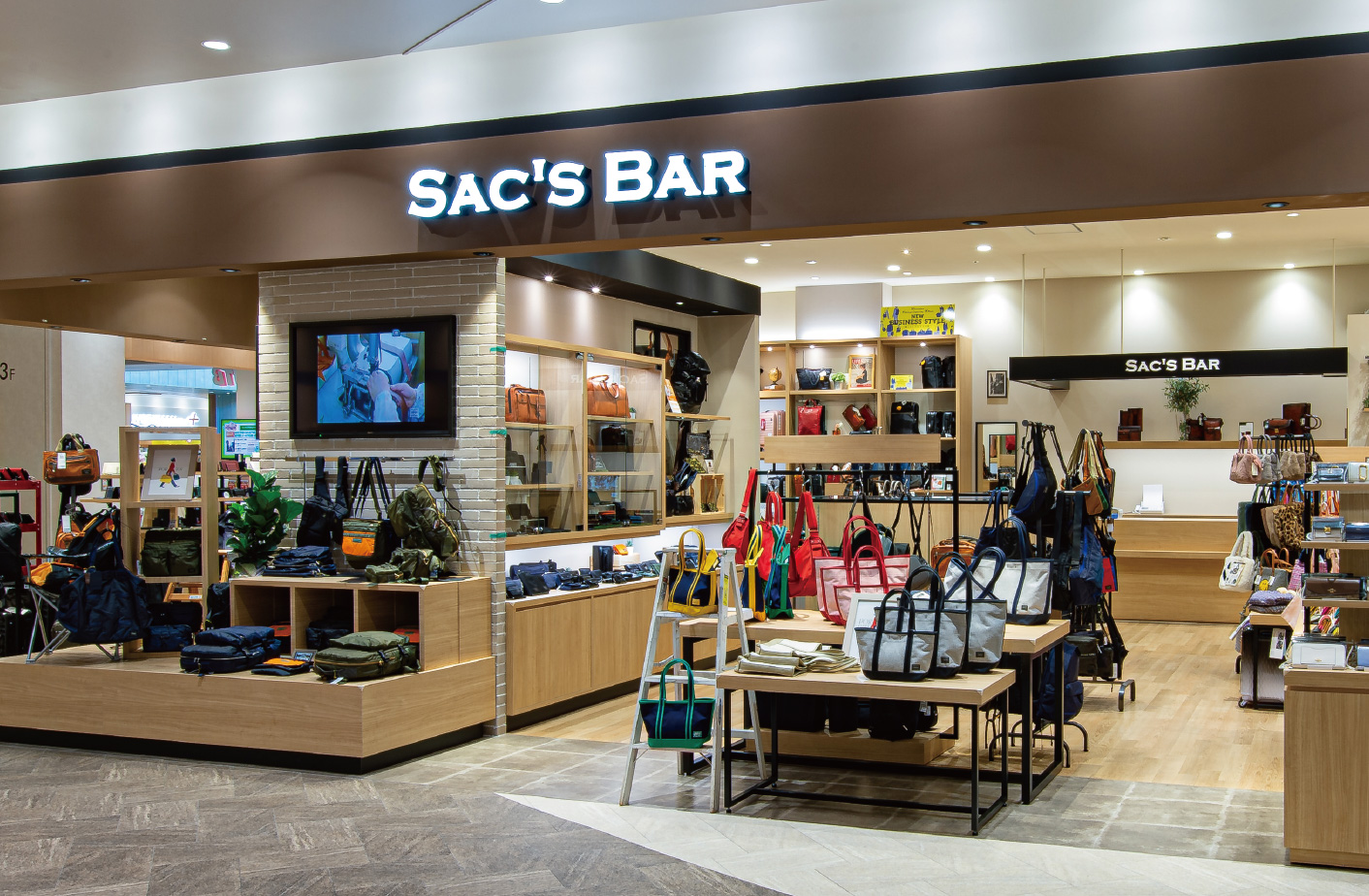 Retail
Tokyo Derica Co., Ltd.
With about 600 specialty shops of bags and fashion goods throughout the nation, Tokyo Derica is the largest retailer in that segment.* It deals in a range of products from dominant brands supported by nearly 500 Japanese wholesalers and manufacturers. These days, it also sells original products developed jointly with big-name brand manufacturers and operates "kissora" original bag shops which supply customized products as well as "efffy" original brand bag shops supplying made-in-Japan products.
* In terms of FY2013 sales (Sources: Yano Research Institute Ltd., "Bag and Purse Market 2013"; and data released by individual retailers)
MAIN SHOPS
SACS' BAR

information

Sac's Bar handles a wide selection of made-in-Japan bags and small goods conveying the firm conviction of its craftsmen. While supplying a range of timeless masterpieces, it keeps pitching new original brand products and special items procured from home and abroad, thereby offering the latest information to customers.

GRAN SAC'S

information

People feel comfortable to live a lifestyle that is just right, reasonable and natural. GRAN SAC'S is an inspirational concept shop with "Just feeling" as its theme and supplies bags and small products for naturally chic adults. It is a shop that makes you cool and makes you feel comfortable.

kissora

information

Focusing on made-in-Japan products, kissora provides attractive handmade bags and small goods from an original leather brand. Products that use lots of high quality domestic leather as well as well-known Italian leather make their owners develop emotional attachments, and feel closer to them as time goes by, and so they are used habitually for a long time. The in-store studio accepts custom orders.

efffy

information

With an emphasis on choice leather and reliable "Made in Japan" quality, efffy offers a selection of simple but elegant bags and small objects only available at the shop. A wide variety of color applications make you happier every day. Efffy's original items are suitable for casual and long-term use and so continue being loved by their owners right to the end.

Beau Atout

information

An advanced accessory shop with novel interior design, Beau Atout has a wide selection of choice accessories and small articles for many different occasions. You can just drop in at the shop before meeting your significant other, friend or family member and find your favorite item there. The shop is a place where you can appreciate such small moments of happiness.

NAUGHTIAM

information

We have a selection of trendy men's bags, wallets, hats and miscellaneous goods to suit different styles such as sporty, street, outdoor and business. Our exclusive lines of products and bespoke products are also available. At our shops, we propose enriching lifestyles that add fun to your daily life.
Tokyo Derica Co., Ltd.
The third Derica Bldg. 1-48-14,
Shin-koiwa, Katsushika-ku, Tokyo
Phone:+81-(0)3-3654-5311 (Main)
FAX:+81-(0)3-3654-5061